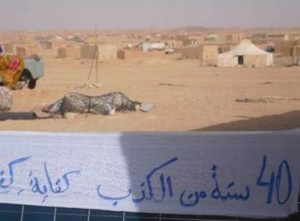 The legitimacy of the Polisario and of its irremovable leader, Mohamed Abdelaziz, is increasingly challenged by young Sahrawis in the Tindouf camps.
The latest condemnation was voiced by Mahjoub Salek, general coordinator of Khat Achahid, a dissident movement. Mahjoub Salek denounced the abject and debasing living conditions of the thousands of Sahrawis who have been sequestered for years in isolated camps in the Algerian desert.
In an interview published Monday by Spanish magazine "Atalayar entre dos orillas," Mahjoub Salek asserted that the Polisario leadership is made up of "corrupt and oppressive individuals" and that this leadership imposes "an awful dictatorship" on the civilian populations in the Tindouf camps.
These populations are overwrought and can no longer stand leaders who steal the international humanitarian aid destined to the camps and who ignore the suffering of children, women, elderly and sick people.
For Khat Achahid movement (The Martyr's Way), created in 2003 by a group of Sahrawi dissidents, money and power are the only two things that interest Mohamed Abdelaziz and his cronies, while the sufferings of the civilian population are the least of their concerns.
In a nutshell, Mohamed Abdelaziz and his cronies defend their own interests and the strategic interests of the Algerian government, Mahjoub Salek told the magazine.
The general coordinator of Khat Achahid also claimed that almost 80% of the Tindouf camps populations are opposed to the Polisario leaders. He recalled as an evidence to this opposition the recent creation of the Youth Movement for Change (MJPC) and its two battalions (Katibates) made up of defectors from the Polisario armed militia.
Salek, who advocated a political and negotiated solution to the Western Sahara conflict, described the crimes committed against Sahrawi civilians (arbitrary detentions, torture, assassinations, forced disappearances etc.) as crimes against humanity.