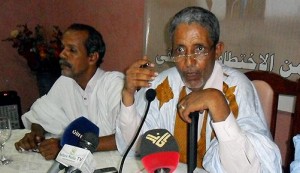 The thousands of Sahrawi youths who are confined in the Tindouf camps without any glimpse of hope for their future took to the streets in recent weeks to tell the Polisario eternal leaders that they have had enough and that their patience is running out.
These young desperate Sahrawis "have no other choice than to rise up against a leadership that has been clinging to power for decades," as highlighted by the Mauritanian NGO "Memory and justice" which has strongly denounced the violent crack down on the protesters by the Polisario militias.
"The bloody repression of Sahrawi civilians, the wave of arrests that followed the protests and the killing of two young persons by the Algerian army remind us of the revolt that shook the camps in 1988, the difference is that today the whole world is witnessing what is going on in the Tindouf camps," said the association president, Mohamed Vall Alghadi.
For this human rights activist, the protest movement underway in Tindouf is the "beginning of the end of the current leadership of the separatist front that has failed to improve the lives of the camps populations."
The threats made recently by the Polisario leaders to take up to arms against Morocco are just another attempt to sweep things under the rug and to divert the Sahrawi populations' attention from their own misconduct such as the embezzlement of humanitarian assistance, instead of seeking acceptable solutions to the Western Sahara conflict.
Alghadi is convinced that things will eventually change in the Tindouf camps as the youths seem determined to get rid of the yoke imposed by the Polisario militias and torturers with the complicity of their Algerian mentors.
The president of "Memory and Justice" also deemed that the execution of two innocent young Sahrawi traders is "the last nail in the coffin of the Algerian military regime's propaganda which claims that Algeria is the Sahrawis' strategic ally while Algeria actually uses these Sahrawis as a mere instrument in its foreign policy."
Memory and Justice which was set up by Mauritanians victim of Polisario abuses called international Human Rights NGOs to break their silence and to denounce the bloody repression and inhumane treatment inflicted on the Tindouf camps civilian populations.