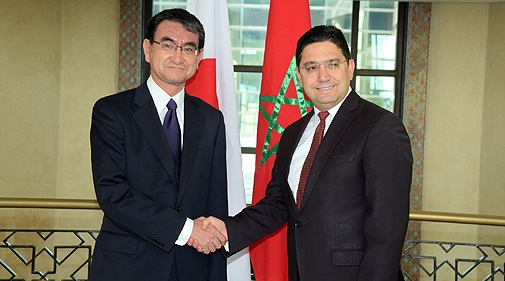 The Polisario continues to suffer setbacks in 2018, a year that was already full of hardships for the separatists. The Japanese Minister of Foreign Affairs, Taro Kono, reaffirmed that Tokyo does not recognize the pseudo-Sahrawi republic "RASD", self-proclaimed by the Polisario with the connivance and support of the Algerian regime.
The Japanese Foreign Minister, who was on an official visit to Morocco, reiterated his country's stand on Monday at a press conference following talks with Moroccan Foreign Minister Nasser Bourita.
Last October in Tokyo, Taro Kono had already made it clear that Japan does not recognize the Polisario's chimerical republic. This came during the ministerial preparatory meeting of the 7th TICAD (Tokyo International Development Conference in Africa), held in the Japanese capital last October 5 to 7.
Elements of the separatist front had then imposed themselves on the Japanese hosts of the meeting after they entered the country with Algerian passports and accreditation badges of the African Union Commission.
Taro Kono had responded to the deceit by affirming that this presence "does not mean in any case, that Japan recognizes, implicitly or explicitly", the separatist group as a State.
On Monday in Rabat, the spokeswoman for the Japanese Foreign Ministry, Ms. Mitsuko Shino, gave further explanations on this matter assuring that the presence of Polisario elements at the TICAD meeting "was a big problem" that Japan had sought to overcome diplomatically to "avoid embarrassment".
"We have good intentions to resolve this issue," said Ms. Mitsuko Shino, adding that the visit of the head of Japanese diplomacy, Taro Kono, in Morocco, is a "good move" in this direction.