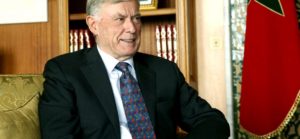 US Under-Secretary of State for Political Affairs David Hale on Monday hailed King Mohammed VI's call for dialogue between Morocco and Algeria to break the stalemate in bilateral relations against a backdrop of the conflict around the Sahara.
David Hale, who met in Rabat with Speaker of the House of Representatives Habib El Malki, also highlighted US support for the efforts of the UN Secretary-General's Personal Envoy for Western Sahara Horst Köhler, with a view to finding a solution to this regional conflict.
The visit of the US official to Morocco comes just days before a "round table" in Geneva on December 5 and 6 that will bring together Morocco, Algeria, Mauritania and the Polisario.
The Algeria-backed Polisario is seemingly reluctant to sit at the same table as two elected representatives from the Sahara region who are part of the Moroccan delegation. These are Hamdi Ould Errachid, President of the Laayoune-Oued Eddahab Region, and Ynja El Khattat, President of the Dakhla-Oued Eddahab Region.
The Polisario's mortification to sit at the same table as the elected representatives of the Sahara is all the greater that the leaders of the separatist movement have always opposed the participation of elected officials of the Saharan provinces in any talks on the issue.
The Geneva round table, convened by former German President Horst Köhler, thus marks the end of the Polisario's deception as the separatists have long claimed they are the "exclusive representatives" of the Sahara population, a claim meant to block the political settlement process.