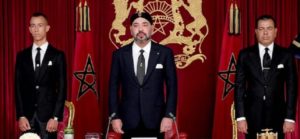 Morocco is determined to defend its territorial integrity with the same clarity, responsibility, and commitment on both the domestic level and the UN level, said King Mohammed VI in a speech he delivered Tuesday evening on the celebration of the 43rd anniversary of the Green March.
In his speech, the Moroccan sovereign also invited Algerian leaders to a "direct and frank dialogue" with Morocco and suggested the creation of a joint political mechanism of dialogue and consultation to iron out the differences that hamper the normalization of bilateral relations and the reopening of borders between the two countries, which have been closed for more than 20 years.
The Sovereign also recalled that Morocco's decision to reintegrate the African Union, its African institutional family, was dictated by "the pride we take in belonging to Africa, as well as by our commitment to share in the development dynamic it is witnessing and to contribute to tackling the various challenges facing the Continent, without compromising our legitimate rights and best interests," in reference to the Kingdom's territorial integrity and the Moroccanness of its Sahara.
He reiterated Morocco's clear position regarding its territorial integrity, pointing out that this clarity can be seen in the unchanging principles and frame of reference underpinning Morocco's position. This clarity is also shown by "the firm, resolute manner in which we have been tackling all transgressions – whatever their origin – aimed at undermining Morocco's legitimate rights or departing from the frame of reference agreed for the settlement process," he underlined.
The King also recalled Morocco's sincere cooperation with the UN Secretary-General as well as the support it lends to the efforts of his Personal Envoy to establish a serious and credible political process for the Sahara issue settlement.
At the domestic level, he assured that Morocco is sparing no effort to pursue the progress in the Southern Provinces under the new development model. The aim, he said, is "to make sure the Moroccan Sahara can once again play its historical role as an effective link between Morocco and its sub-Saharan African roots, be it from the geographical or historical perspective."