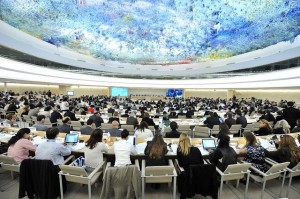 Algerian authorities have once again been singled out for their involvement in the murder of two young Sahrawis from the Tindouf camps. The accusation was this time made by the brother of one of the victims, namely Khatri Ahmada Khandoud.
Khatri's brother, a young Polisario dissident, told the Council of Human Rights currently in session in Geneva the details of this family tragedy. In January, his brother and two other young Sahrawis, Mohamed Aliyene Abbih and Salek Boujemaa, were traveling from the Tindouf camps in Algeria to Mauritania. On their way, they were cold-bloodedly shot by Algerian soldiers.
Salek Boujemaa was wounded by gunshots but survived and was thus able to make a damning testimony on the assault.
Boujemaa had recounted that the Algerian soldiers fired at them without warning, while the victims were not armed. The Sahrawi three young men were heading to Mauritania to purchase consumer goods that they were going to sell in the Tindouf camps.
Despite the outcry raised by these assassinations against the Polisario leaders, the Algerian army and the Algerian intelligence services, no investigation was conducted and the exact circumstances of the murders were not clarified. According to Sahrawi sources, the Algerian military who opened fire on the young Sahrawis thought they were dealing with Polisario dissidents who were trying to escape the Tindouf camps and go to Western Sahara.
Actually, any attempts to cross borders or to escape to the Moroccan side are brutally suppressed, this is why the Algerian soldiers have hastily fired at the three young Sahrawis, explain the same sources.
In his moving address before the HRC, Khatri's brother called on the international community to take urgent action to protect the Sahrawi population against the Stalinist grip of the Polisario and the Algerian military intelligence services (DRS) on the Tindouf camps.