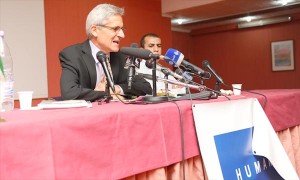 Algerian authorities and Polisario leaders have badly accepted Human Rights Watch's report on the situation of human rights in the Tindouf camps presented on Saturday in Algiers.
Even if many observers and human rights activists deem the report very soft in view of the serious human rights abuses committed both in Algeria and in the Tindouf camps, for Algerian rulers and Polisario leaders, it was a tough pill to swallow.
In its report entitled "Off the Radar: Human Rights in the Tindouf Refugee Camps" HRW singles out the Polisario leadership for the practice of slavery that still persists in the Tindouf camps.
The report also condemns the Polisario for resorting to military courts to investigate and try civilians. The practice, used by the Polisario as a deterrent tool against its opponents, is against widely accepted international norms of human rights.
Since these abuses are happening on Algerian soil, Human Rights Watch underlined Algeria's responsibilities as the Sahrawi refugees' host country.
HRW called on Algeria to "publicly acknowledge its own responsibility
for ensuring respect for the rights of all persons on Algerian territory" including the refugees settled in the Tindouf camps, some for 40 years.
Although Algerian rulers have always denied their involvement in the territorial dispute with their Moroccan neighbor, the American NGO put the record straight and lifted any ambiguity as to the responsibility of Algeria in the persistence of this territorial dispute and in the abuses targeting the Sahrawi populations in Tindouf.
HRW also criticized Algerian leaders for having done nothing to shed light on the thousands of killings and forced disappearances committed in the country during the dark decade of the 1990s.
So far, laments Eric Goldstein, the director of HRW's MENA division, "Algeria has not initiated such an approach" by setting up, as Morocco did, an independent commission to do justice and rehabilitate all victims of this unprecedented repression.