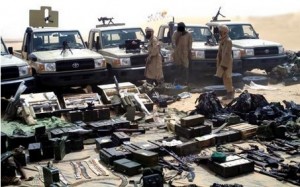 The violent clashes that opposed recently the Mauritanian army and armed traffickers, who included Polisario elements, show the extent of the involvement of the Algeria-backed separatist Sahrawi Front in various trafficking operations in the region.
The clashes took place earlier this week near the Moroccan-Mauritanian border, a region increasingly targeted by Latin American drug traffickers. After the incident, the smugglers vanished in the desert. They are part of powerful networks that convey cocaine to Europe.

The networks have become so intertwined that they deal with the trafficking not only of drugs but also of arms, ammunition, cigarettes, etc. Jihadists of AQIM and other militant groups, including elements of the Polisario, exploit the trafficking taking place in this vast desert area.

The violent clashes between Mauritanian soldiers and Polisario elements triggered the alert in the ranks of the Moroccan army and some officers of the Moroccan army visited Mauritania to trade with their Mauritanian peers information about the activities of these networks.

These networks smuggle not only arms and drugs, but also goods of the humanitarian assistance initially destined to the Sahrawis stranded in the Polisario-run Tindouf camps.

The humanitarian aid goods embezzled by the Polisario leaders are usually sold on the markets of Mali, Mauritania and Niger, creating thus a genuine Sahelian trade and making of those who head these networks true warlords in the region.

The returns of this lucrative trafficking enabled the warlords to amass huge wealth and to purchase numerous properties in Mauritania, mainly in Nouadhibou, the economic center of the country where the Polisario has relays.