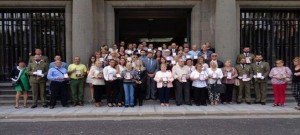 The Spanish victims of terrorist acts carried out by the Polisario have eventually prevailed. The surviving victims or their relatives were received by the Spanish Interior Minister Jorge Fernandez Diaz, who decorated them on Friday, November 6, in Las Palmas.
Lucia Jimenez, the daughter of a Spaniard assassinated by the Polisario and chairwoman of ACAVITE (the Canarian Association of Victims of Terrorism,) was among the people decorated by the Spanish Interior Minister.
ACAVITE brings together victims of the Polisario. The separatist front had killed or injured hundreds of Spanish citizens in the 70s and 80s of the past century. Most of the victims were fishermen operating in the Atlantic waters between the Canary Islands and the coasts of Western Sahara.
During the decoration ceremony in Las Palmas, the delegate of the Canary Islands Government, Maria del Carmen, expressed to Lucia Jimenez and to the other victims or families of victims the solidarity and support of the Spanish state.
This recognition is surely belated, but it comes at a time the Polisario has no longer the capacity for harm it had in the past. The Algeria-backed separatist movement can no longer access the Western Sahara territory, which is now totally secured by Morocco.
Actually, "today, the Moroccan Sahara is the safest area in the Sahel and Sahara region," as stated by the King of Morocco Mohammed VI, the same day the Spanish victims of the Polisario were receiving their decoration in Las Palmas.
The Moroccan King's statement was made on the occasion of the commemoration by Morocco of the 40th anniversary of the Green March, the historical event that sealed, in November 1975, the departure of the colonial power from Western Sahara and the handover of the territory to Morocco.