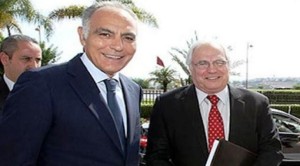 The UN secretary General's personal envoy for the Sahara, Christopher Ross, "will never return to the Moroccan Sahara," Moroccan Foreign Minister, Salaheddine Mezouar, told Spanish news agency EFE, on November 7.
According to a political analyst, the Moroccan Foreign Minister's statements are to be understood in the context of the failure of the UN mediator in finding an outcome acceptable by the parties to this thorny conflict.
Actually the negotiations brokered by the American diplomat Christopher Ross have been dragging on since he was appointed to this position in January 2009.
Under his mandate, Ross was called to work with the conflicting parties and neighboring states on the basis of resolution 1813 adopted by the Security Council on April 30, 2008.
In the same resolution, the Security Council recognized "the serious and credible efforts of the Kingdom," alluding to the autonomy plan for the Sahara it had proposed in 2007. The Council had also called for "intensive and substantial negotiations based on realism and a spirit of compromise."
The political analyst noted that six years later, it is clear that Ross has not really followed the instructions of his boss Ban Ki-moon and of the Security Council, since his mediation has so far been ineffective.
It is precisely for these reasons that Morocco, its King and its Foreign Minister are fully entitled to require from Ban's personal envoy to deliver concrete progress instead of continuing to move in circles, and to talk to the genuine partners who are in Rabat and not in the Western Sahara provinces.
These are the same reasons that prompted over 30,000 Sahrawis to stage a demonstration in Laayoune, on Saturday November 7, to demand the departure of the MINURSO from Western Sahara.
It is therefore high time that Christopher Ross admitted his failure and threw in the towel instead of demanding the right to visit Western Sahara.
Actually, each time Ross visited the Sahara Provinces, the separatists, manipulated from the Polisario headquarters in Tindouf, used to seize the opportunity of these visits to create trouble in the peaceful southern cities of the Kingdom and then claim on social networks that they have been subjected to repression by law enforcement agents. However, their tricks no longer deceive anyone!