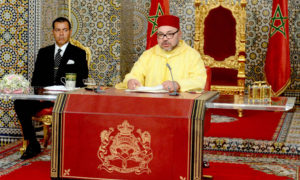 King Mohammed VI said on Saturday that Morocco will reintegrate the African Union, but made it clear that it will not relinquish its legitimate rights over its southern provinces.
Morocco had managed to make of 2016 "the year of determination" as far as the Sahara issue is concerned, while the Algeria-backed Polisario Front had made of it "a year of decision," said the king of Morocco in a speech to the nation on the occasion of Throne Day.
He recalled that the kingdom has faced "with firm determination the fallacious statements and irresponsible behavior" that marred the Sahara issue management. He was referring to the bellicose and provocative statements made by the UN Secretary General, Ban Ki-Moon, during his visit to the Tindouf camps, when he used the word "occupation" to describe Morocco's presence in the southern provinces.
Morocco took the necessary measures, dictated by the circumstances, to put an end to these serious deviations, the King underlined, hinting to the expulsion of the civilian component of the United Nations mission in the Sahara, MINURSO, and the suspension of Morocco's voluntary financial contribution to the budget of this mission.
Morocco will not give in to any kind of pressure, or any blackmail attempts in a case that is sacred for all Moroccans, he said, recalling that Morocco's opponents (mainly Algeria and the Polisario) are infuriated by the economic and social development and progress witnessed in the Moroccan Sahara provinces.
When dealing with the Kingdom's request to reintegrate the AU, King Mohammed VI paid tribute to all African countries that supported its move.
The King was thus referring to the 28 African countries, which had voiced backing to Morocco's request to regain its place within the pan-African organization, and which had asked, in a motion sent to the AU presidency on July 18, the expulsion of the Polisario from the various bodies of the Union.
A 29th member country of the AU signed the motion later on while other states have already expressed their intention to do likewise.
The Sahara-related diplomatic battle waged by Morocco on the European, African, and Latin American fronts as well as at the level of the United Nations seems to bear fruit, especially since Morocco opted for offensive diplomacy.