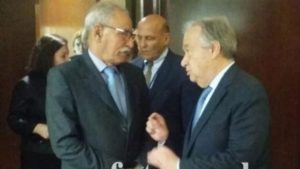 The armed elements of the Polisario Front deployed for months in the buffer zone of Guerguarat at the Moroccan-Mauritanian border are expected to withdraw in the coming days, a source close to the UN in New York said.
The UN Secretary-General Antonio Guterres had summoned the head of the Sahrawi separatist front, Brahim Ghali, to withdraw the militiamen during an informal meeting at the UN headquarters in New York on March 17.
Guterres's communication services had not publicized the meeting because it was not official.
The discussions between the two men were far from being cordial, adds the same source, pointing out that Guterres was candid in his remarks to Ghali. He particularly blamed him for the climate of tension he created when he deployed a dozen uncontrolled armed militias in the demilitarized buffer zone of Guerguarat in the extreme south-west of Morocco.
Guterres summoned the Polisario leader to withdraw his men illico-presto and unconditionally from the Guerguarat area and to avoid obstructing the free movement of goods and persons between Morocco and Mauritania as stipulated in the cease-fire agreement signed in 1991 under the auspices of the United Nations.
The UN Secretary-General told Brahim Ghali that it is unacceptable that the Polisario keeps its armed elements in this zone that is under the control of the MINURSO, at a time when Morocco has responded to the UN call on February 25 and withdrew its forces from the buffer zone.
The Polisario leader had no other choice than comply with the UN Chief's summons, primarily because he fears to see the separatist front finger pointed in the annual report on the Sahara to be presented to the UN Security Council on 7 April. This year's report will probably be presented by Guterres, as the UN Secretary-General's personal envoy for the Sahara Christopher Ross has recently handed in his resignation.