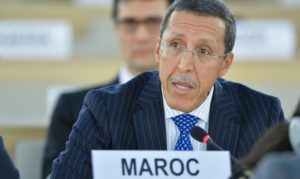 Morocco's Permanent Representative to the UN Omar Hilale exposed the indisputable involvement of Algeria in the Moroccan Sahara issue and its unconditional support for the Polisario separatists.
Speaking at the C24 regional seminar for the Caribbean, in Kingstown, Saint Vincent and the Grenadines, Thursday, Omar Hilale underscored that it was Algeria, which created in 1973 the Polisario Front to offset the legitimate rights of Morocco on its Sahara.
After he recalled that it was Morocco, which tabled the issue of the Sahara, then under Spanish occupation, at the United Nations, in 1963, the Moroccan diplomat questioned: "Where was the Polisario at that time?"
"The answer is that it did not exist," he said, wondering: "how can it (the Polisario), today, pretend to any representativeness of the Sahara?" This is just "absurd", he said.
The Moroccan diplomat also underscored that Algeria's involvement in this regional conflict was clearly stressed in the latest Security Council resolution 2351, which called for "a strong and serious commitment of neighboring States to bring about an important contribution to the UN process".
Therefore, Hilale insisted, "Algeria can no longer hide behind its pseudo-observer status. it needs to sit at the negotiation table and contribute fully to implementing the Security Council mandate".
In resolution 2351 adopted last April, the Security Council insisted on the negotiating path to resolve the artificial dispute over the Sahara, and made no reference whatsoever to the self-determination referendum claimed by the Polisario and its Algerian mentors.
The Moroccan diplomat pointed out in this vein that Resolution 2351 "upheld negotiations as the only means of achieving a mutually acceptable political solution and, like all previous resolutions since 2001, it definitively ruled out any reference to the referendum as a mechanism for exercising the right to self-determination and for the settlement of this regional dispute".
The Security Council "welcomed the serious and credible efforts made by Morocco to move towards a political solution", and once again stressed the pre-eminence of the Moroccan Autonomy Initiative for the Sahara.