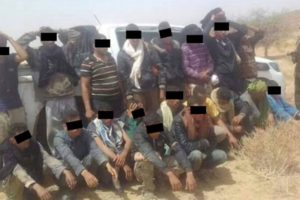 The case of the arrest on July 15 by the Polisario of nineteen Moroccans allegedly practicing drug trafficking and of which the Polisario made a great media hype proved to be a resounding fiasco. The 19 individuals were mere nomads of the Tekna of Ait Brahim tribe who were looking for a meteorite fragment when they got lost.
The Polisario leaders, having been placed by their militias before the fait accompli, first tried to involve in the case the United Nations mission in Western Sahara. But the MINURSO refused to handle the case, saying that the individuals were not military and their arrest has nothing to do with its mission to monitor the ceasefire in the Sahara.
The Polisario then resorted to Interpol, which also declined to consider this case, insofar as the persons concerned are not the subject of any international arrest warrant, and as the Polisario's accusations were not based on any material evidence of involvement in international drug trafficking.
The Polisario leaders finally vowed that their 19 hostages, whom they accuse of acting as mules for drug traffickers, would be tried in a mock trial to be held in the locality of Mijek, not far from the Moroccan defense wall.
But after the media campaign it staged about this case, the Polisario is now observing an uncomfortable silence.
At present, the Separatists are seemingly trying to stifle their fiasco and settle the problem directly with representatives of the Tekna tribe far from the prying eyes of the media. All they want now is to save their face.