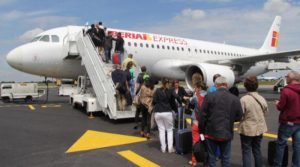 Around fifty youths from the Polisario-run Tindouf camps who sought asylum in Spain were deported forcibly on Sunday (September 3) to Houari Boumediene airport in Algiers after they refused the day before to board a plane heading to Algeria.
A group of 54 Sahrawi youths from Tindouf who were initially heading to Cuba with a stopover in Madrid were pinned on August 22 by the Spanish border police and placed in a detention center at the Madrid-Barajas airport pending their returning to Algeria wherefrom they came to Spain.
On Saturday, September 2, the youths refused to board a plane of the Spanish company Iberia that was to take them back to Algiers. They were sent back to a detention center in Terminal 4 of the Madrid airport, where they spent the night before they were forcibly boarded on another flight departing for Algeria Sunday.
The defectors went on a hunger strike while in the detention centers, but their movement did not changed Spanish authorities' decision not to grant them political asylum, as their applications had been rejected by the Spanish Interior Ministry.
The same procedure was applied recently to other Sahrawi defectors who were seeking in Spain escape from the precariousness, unemployment and repression of the Polisario's armed militia and the Algerian army prevailing in the Tindouf camps.
Spanish authorities fear that if they grant asylum to some Sahrawis, they will encourage hundreds of other inhabitants of the Tindouf camps to seek better living conditions in Spain.
Over the past recent months, many Sahrawis from Tindouf have used the same subterfuge. They buy tickets to Cuba but during the stopover at Madrid airport, they do not continue their trip and stay in the European country, hoping to obtain asylum there with the help of local pro-Polisario NGOs and associations.