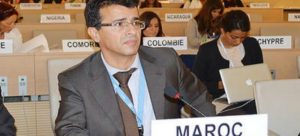 The Chargé d'Affaires of the Moroccan mission in Geneva denounced on Tuesday (Sept.12) before the Human Rights Council (HRC) the Algerian regime's maneuvers on the Moroccan Sahara issue, underlining that Algeria's discourse "has lost all credibility at the Human Rights Council, as it lost all credibility in Africa".
The new Algerian strategy at the HRC "consists in hiding behind countries like Namibia to challenge Morocco's territorial integrity," said the diplomat, Hassan Boukili.
Boukili took the floor to respond to a statement by the Algerian delegation on the situation in the Moroccan Sahara during the debate that followed the presentation of the report of the High Commissioner for Human Rights before the HRC 36th session.
"Morocco rejects the false pressures and harassment that Algeria is trying to exert on the Office of the High Commissioner," he said, suggesting that Algeria should first sweep before its doors, before giving lessons to others on this particular issue of human rights.
Moroccan institutions fully fulfill their role of promoting and protecting human rights in the Sahara as in the rest of the Kingdom, the Moroccan diplomat underscored.
He recalled that the Security Council had even welcomed the efforts made by Morocco since 2006 to settle this dispute based on its autonomy proposal for the Sahara.
It's Algeria that has bad human rights records, he said, reiterating Morocco's call to the High Commissioner to challenge Algeria about its human rights problems and abuses.
Hassan Boukili spoke of the tens of thousands of enforced disappearances in Algeria, the denial of the right to self-determination of the Kabyle and Mozabite populations, and the refusal to receive the Special Rapporteur on Torture, the Working Group on Disappearances and the Working Group on Arbitrary Detention and international human rights NGOs.
The Moroccan diplomat also mentioned the serious violations committed throughout the year by the Polisario militias in the Tindouf camps, under the guardianship and protection of the Algerian regime.