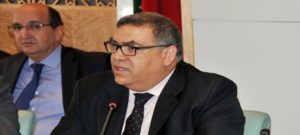 Moroccan Interior Minister Abdelouafi Laftit held talks in Rabat Friday (January 12), with the UN Secretary-General's new Special Representative and MINURSO leader, Colin Stewart, on the latest developments of the Sahara issue and in particular the situation in the buffer zone bordering the Gueguerat border post.
 During the meeting, attended by Governor Hamid Barez who is in charge of coordination with Minurso and Colin Stewart's adviser, Alexander Ivanko, Abdelouafi Laftit assured Colin Stewart of Moroccan authorities' resolve to help him carry out his mission and their continued commitment to support MINURSO fulfil its mandate.
 Abdelouafi Laftit reiterated also Morocco's warning against the continuation of the provocative acts of the Polisario in the buffer zone, particularly at the Moroccan border post of Guerguerat. The consequences of such acts could undermine peace and security in the region and seriously obstruct the negotiations process of the artificial conflict around the Moroccan Sahara, he underlined.
 The Polisario militia had tried to block the Guerguerat passage to the participants in the Sahara Desert Challenge Rally as well as to participants in the Africa Eco Race who were to continue the race in Mauritania, but their attempts failed.
 The Polisario was called to order on January 6 by UN Secretary-General António Guterres, who said he was "deeply concerned" by the renewed tension in Guerguerat, warning that "Regular civilian and commercial traffic should not be obstructed and no action should be taken, which may constitute a change to the status quo of the Buffer Strip".
 For his part, Colin Stewart renewed to his Moroccan interlocutor, MINURSO's commitment to continue efforts to ensure respect of the military agreements and the return to the status quo in the Guerguerat area, in accordance with the UN Secretary General's call of January 6.