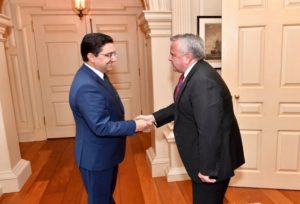 Following Morocco's protests against the provocative incursions of the Polisario in the buffer zone of the Sahara, Moroccan Foreign Minister Nasser Bourita addressed this issue Monday in Paris, with his French counterpart, Jean-Yves Le Drian.
The following day, he flew to Washington, where he conferred with Acting Secretary of State John J. Sullivan.
The two officials' talks focused on "the deep US-Morocco bilateral relationship" and "regional issues," the spokesman for the US State Department said in a statement.
Washington "also expressed its commitment to United Nations-led efforts to find a peaceful, sustainable, and mutually acceptable political solution to the long-standing dispute over the Western Sahara," the spokesman said.
The head of Moroccan diplomacy was also scheduled to hold talks Wednesday in New York with UN Secretary-General António Guterres.
Through these contacts, Nasser Bourita seeks to raise the awareness of his interlocutors in Paris, Washington and New York, about the repeated violations by Polisario elements in the buffer zone, in the Moroccan Sahara.
The Foreign Minister also seeks to reassure his interlocutors about Rabat's commitment to defend its interests, in line with international law, said a Moroccan source.
The Moroccan Foreign Minister's contacts are of great importance in the run-up to the annual meeting of the Security Council on the Sahara issue planned later this April.
Nasser Bourita's trip to Paris, Washington and New York follows the recent escalation triggered by the Polisario in the Moroccan Sahara, as the separatists deployed armed elements in the demilitarized zone, including, in Guerguerat, Mahbes, Tifariti and Bir Lahlou, a zone supposed to be controlled exclusively by MINURSO, in accordance with the ceasefire agreements signed in 1991.
In the wake of this escalation, Morocco addressed last Sunday a letter to the Security Council urging the UN body to use its authority and order the Polisario to withdraw its militias from the buffer zones. Morocco made it clear it would not tolerate the transfer of any military or civilian structure of the Polisario to the demilitarized area.