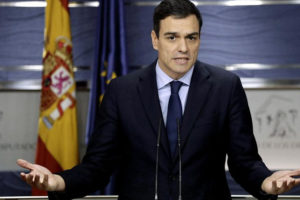 The Spanish Prime Minister Pedro Sanchez received Thursday (August 16) a letter denouncing the crimes and abuses committed by the torturers of the Polisario Front against the Sahrawi populations sequestered in the Tindouf camps on Algerian territory.
The president of the Polisario Association of Missing Persons (APDP), Dahi Aguai, himself a victim of torture while he was detained in Polisario jails, sent a letter to the president of the Spanish executive in which he shed light on the torture practices in the Polisario-run prisons, scattered in the Algerian desert.
Dahi Aguai said in his letter that some of the Polisario torturers are in Spain and freely move in several European countries using Algerian diplomatic passports.
"We have lodged a complaint against them with Spanish courts, because we have great confidence in the Spanish judiciary and government," he said, adding that as victims of these abuses we are "placing great hope in you to help us recover our rights from the torturers who stole our youth".
The victims of the Polisario separatists also include Spaniards, notes Dahi Aguai, claiming to have witnessed the disappearance of five Spanish soldiers who were held by Polisario jailers. He also recalls the attack by the Polisario armed militia against the Spanish trawler "Tagomago", where several crew members were killed.
The Spanish National Court, the highest criminal court in the country, had accepted, in December 2007, a complaint against Polisario leaders and Algerian security and army officers accused of "Genocide, torture, enforced disappearances, illegal detention and serious violations of human rights". The current head of the Polisario Front, Brahim Ghali, is among the accused in this file.