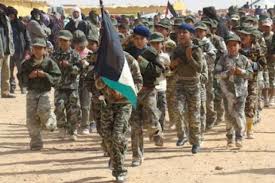 Hundreds of Moroccan children are to participate on February 12 in Rabat in a march of solidarity with the oppressed Sahrawi children. These helpless Sahrawi children along with women constitute the weak link of the sequestered populations in the Tindouf camps and are often forgotten by the international community.
Participants in this march that is jointly organized by Colombe Blanche Organization, the International Movement for the completion of Morocco's territorial integrity and the Alliance of Moroccan Sahrawis in Europe, will denounce the horrible crimes perpetrated against Saharawi children on Algerian soil.
According to organizers, the march will be held on the occasion of the International Day against the use of child soldiers. Two other similar protest movements were successfully held at the European Parliament in Strasbourg and in the Swedish Parliament in Stockholm.
These are acts of solidarity with children victim of serious violations in 22 conflict situations mentioned by the Office of the UN Secretary General's Special Representative for Children and Armed Conflicts.
According to UN statistics, there are currently more than 250,000 child soldiers who were often forcibly enrolled in various armed conflicts around the world. The figures include   children from the Tindouf camps.
Colombe Blanche (white dove) will receive from the children participating in the Rabat march letters of protest and solidarity which will be addressed to the UN Secretary General through the UN representation in Rabat. The letters will expose and denounce the horrific crimes committed against Moroccan Sahrawi children deported against the will of their parents to Cuba, to the former Soviet Union, Algeria and Libya.
Colombe Blanche seeks through these moves to foster the awareness of the international community and humanitarian NGOs to the plight of the children and families forcibly confined in the Tindouf isolation camps and to prompt them take action to end this ordeal.
During the past four decades, the Polisario leaders have imposed, in total impunity, their diktat in these lawless places where all violations and abuses are allowed with the blessing of the Algerian regime and its generals.