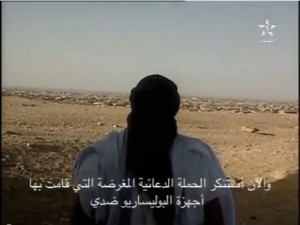 Algerian authorities give proof of their genius not to alleviate the suffering of the thousands of Moroccan Sahrawis sequestered in their territory but rather to tighten control on the Tindouf camps under the pretext of combating smuggling.
Two residents of the camps have lost their lives earlier this year because of this repressive policy orchestrated in collusion with the Polisario leadership.
Since last Wednesday, the Algerian army and the Polisario have been leading a real witch hunt after the Laayoune TV channel aired several videos of Sahrawis denouncing the abuses, violations and daily frustrations faced by the Tindouf camps populations.
Mobile units of Algerian joint forces (army, police, and customs authorities) are posted around the clock at the entrance of the camps officially to "fight smuggling."
Sources in Rabouni give however another reason to this deployment. The joint forces' mission is to catch the authors of the videos aired by the Moroccan TV channel, the sources say, adding that some ten youths have been arrested, blindfolded and driven aboard military vehicles to an unknown destination.
Their parents and families have no news about them or about their whereabouts.
When Polisario leaders were asked about the fate of these young people, they advised families to contact the Algerian authorities that are, they claimed, the only responsible for the arrests.
Even the vehicles carrying goods are subject to a systematic and thorough search and their drivers are interrogated by elements of the Algerian military intelligence services (DRS.) Sahrawi tradesmen are often forced to bribe the Algerian military to avoid that their vehicles and goods are confiscated.
Despite these acts of intimidation, Laayoune TV channel has promised its viewers that it will broadcast new videos, more damning than the three previous ones submitted by two young Sahrawis and a widow.
In her video, the widow complained that she had been sexually harassed by the so-called defense minister of the Polisario, Mohammed Lamine Bouhali, in exchange for her food ration.