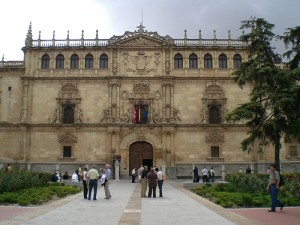 Spanish Politicians and intellectuals are known for using double talk according to their own interests when it comes to their southern neighbor.
When it is question of stopping illegal immigration to Spain or allowing the Spanish fishing fleet to operate in Moroccan waters, they talk of Morocco as a good partner. But when it comes to the North African country's sovereignty and territorial integrity (enclaves of Ceuta and Melilla, Western Sahara,) these same people change the tune and use a completely different language.
This is precisely what happened lately. A group of Spanish public universities organized earlier this month in Madrid a conference on Western Sahara. The conference was moderated by the so-called Prime Minister of the Polisario-proclaimed SADR, Abdelkader Taleb Oumar, who has been holding this position since 2003.
Five Moroccan academics had requested to participate in the conference. But the meeting organizers rejected at the last minute and without any convincing explanation their requests. The pretext put forward by the organizers is that the registration deadline was set before March 24, the date they received the academics' applications from the Rabat-Agdal Mohammed V Law School.
The rector of the Rabat University, who deemed the organizers' justifications unconvincing, sent them a letter deploring as inappropriate and discourteous the attitude of the Spanish universities towards the Moroccan academics who wanted to attend the conference for an exchange of viewpoints at an academic debate on a topic that interests first and foremost all Moroccans.
Reacting to the decision of the Madrid Conference organizers, one of the five academics who applied to attend the debate, Mohamed Hanin, described the decision as a regrettable antecedent in academic records and as contrary to university customs and traditions.
Dr. Mohamed Hanin deplored the fact to see Spanish public universities yield to the whims of parties known for their hostility to Morocco and to its territorial integrity.