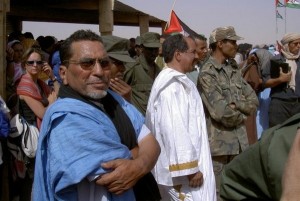 The Autonomous Government of the Canary Islands has been asked to help identify and bring before justice the Polisario criminals, as the archipelago is hosting many members of the Tindouf-based Polisario separatist movement and many of its supporters.
President of the Association of Missing persons at the hands of the Polisario (French acronym APDP,) Dahi Aguai, sent last Monday (April 7) to the President of the Autonomous Government of the Canary Islands, Paulino Rivero, a big file on cases of torture and enforced disappearances committed by the Polisario torturers in Tindouf, on Algerian soil.
In a preliminary letter, Dahi Aguai, a former official in the Polisario Front who broke with the group decades ago and who is now chairman of the association defending the cause of missing persons, called on the authorities of the Canary Islands to extend all necessary assistance so that the perpetrators of the crimes committed in Tindouf are identified and brought to justice.
Among these perpetrators, he mentioned an individual called Lahsen Mouloud who is currently in the Archipelago and who had been identified by his victims during a hearing before Spanish National Court Judge, Pablo Ruz.
The file sent to President of the Autonomous Government of the Canary Islands includes pictures of victims of torture and of missing Sahrawis as well as pictures of Spaniards who had been held prisoners by the Polisario but who never came out from the Polisario jails scattered in the Algerian desert.
The file also includes excerpts from a report in which Amnesty International reveals that the Polisario leadership "has taken no action to end the impunity enjoyed by those accused of committing human rights abuses in the 70s and 80s in the Tindouf camps."
Despite repeated calls to bring them before international justice, these abusers continue to circulate freely with Algerian diplomatic passports, deplored Dahi Aguai in his letter.