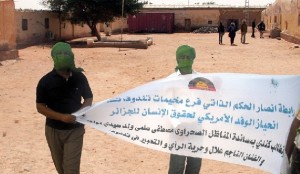 Some Sahrawis who have submitted to the High Commissioner for Refugees (UNHCR) in Rabouni camp written requests to return to Morocco have been violently mistreated by the Polisario militia.
According to several sources from the Tindouf camps, the Sahrawis, having received no response to their requests, were staging a sit-in outside the UNHCR headquarters in Rabouni camp when the Polisario armed militia brutally cracked down on them.
On Monday, April 14, elements of the so-called military police of the Polisario intervened ruthlessly against these Sahrawis. One of them, Najem Allal, was violently hit in the face and lost several teeth, while one of his friends, activist Mohamed Mouloud Mohamed Ali Bousshab, suffered a severe neck wound.
Mohamed Mouloud was later on put aboard a military vehicle and driven to the infamous June 9 prison. Since his incarceration, no member of his family has been allowed to visit him, despite his serious injuries. Najem Allal was placed under house arrest but he might be sent to jail any time.
The Sahrawi applicants were hoping to get a one-way fare to Morocco among the 143 people from the Tindouf camps who were to benefit from the new family visits exchange operation. The 143 people actually arrived in the Moroccan provinces of Dakhla and Aousserd last Wednesday.
Since the beginning of the current year, disenfranchised young Sahrawis who lost any hope for a better life have resorted to new forms of protest against the Polisario and its leader Mohamed Abdelaziz.
According to well-informed sources in Rabouni, Sahrawi rebels are preparing an unprecedented action against the Polisario leadership.
The information has been confirmed by a recording broadcast by the Forum of support to autonomy backers in Tindouf (FORSATIN). At a meeting held on Wednesday in Skhirat, on the outskirts of Rabat, a leader of the Sahrawi Revolutionary Youth movement, who is currently visiting Morocco, called on all human rights activists in Morocco to follow daily the news coming from the Tindouf camps in order not to miss a surprising "specific action" that is brewing in the camps.