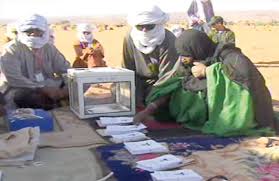 The presidential elections in Algeria won by Abdelaziz Bouteflika for a fourth term have stirred much comments but the veil of some mysteries is still being lifted.
Notwithstanding the frauds or anomalies that have allegedly marred the elections, as claimed by the opposition and local newspapers, new truths have been revealed by foreign policy observers and media in the wake of the polls.
Polisario leaders who due the survival of their separatist cause to the Algerian regime and particularly to Bouteflika as current head of State and as former Foreign Minister seized the polls opportunity to show their gratitude to their benefactor.
The Sahrawi separatist movement's leadership actually mobilized thousands of people in the Tindouf camps who are holding Algerian identity cards and sent them to the polls to vote for Bouteflika as President.
The Algerian television broadcast on the polling day (April 17) images of many Sahrawis voting at the polling stations in the Tindouf province.
Observers monitoring the voting process found it very difficult to determine the true identity of these voters. Were they Sahrawis of Moroccan origin or Algerian Tuareg who infiltrated the ranks of the so-called Sahrawi refugees in the Tindouf camps long time ago to swell the number of refugees and confuse UN agencies?
They cite as an example the case of Khadija Hamdi, the wife of the Polisario leader, Mohamed Abdelaziz. She introduces herself as a Sahrawi while this native of Tindouf is actually Algerian.
An African observer who has been authorized by Algiers to monitor the elections commented that it is for this reason, among others, that the Algerian government has always fiercely opposed any census of the Tindouf population by the High Commissioner for Refugees. According to the observer, Algerians fear the census as it will unveil all their schemes regarding the Western Sahara conflict.
This Algerian refusal is fully supported by Mohamed Abdelaziz and his lieutenants but for other reasons. For the Polisario leaders, leaving the number of people living in the Tindouf camps undefined enables them to drain maximum international aid that they embezzle to fund their banking accounts abroad.