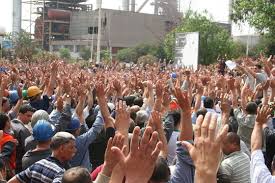 Human Rights Watch and other international NGOs have once again denounced the Algerian government's violations of workers' rights, particularly the arbitrary sanctions inflicted on peaceful demonstrators and strikers.
Human Rights Watch (HRW) and the Euro -Mediterranean Human Rights Network (EMHRN ) denounced, in a joint statement issued in Geneva, on the eve of the 103rd session of the International Labor Organization (May 28-June 12)  the Algerian government which "punishes peaceful protesters and strikers, including with retaliatory suspensions or dismissals from public service jobs, and arbitrarily arrests and prosecutes union activists on politically motivated charges." The authorities also restrict workers' rights to form unions, says the statement.
Sarah Leah Whitson, Middle East and North Africa director at HRW, underlined that "workers in Algeria are stymied at every turn when they try to form independent unions and act collectively."
HRW and the EMHRN  which say they have interviewed workers and union representatives, documented efforts to form and operate unions in Algeria and reviewed laws and regulations governing union activity, came to the conclusion that "Algerian authorities use administrative maneuvers designed to withhold legal status from independent unions that attempt to operate outside of the General Union of Algerian Workers (Union générale des travailleurs algériens, UGTA), which many view as close to the authorities."
The two NGOs urged the International Labor Organization (ILO) to pressure Algeria to end its repression of independent union activity.
"The ILO should remind Algeria that respecting labor rights means letting workers organize unions and conduct union business without government interference," insisted Sarah Leah Whitson.