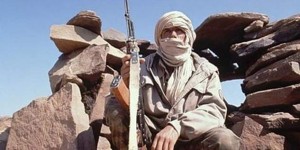 Military dissidents of the Polisario have recently broadcast on Saudi TV channel "Al Arabiya" a new video announcing the creation of the military wing of the Youth Movement for Change (MJPC) in the Tindouf camps.
The group of Sahrawi dissidents says in the video it has formed a battalion dubbed "Katiba Dcheira" in reference to Dcheira battle that had opposed, in January 1958, the Moroccan National Liberation Army to the Spanish occupying forces in this small town located about 25 Km east of Laayoune in southern Morocco.
To give more credibility to their messages, the Sahrawi dissidents sent their video tape to the Saudi TV channel "Al Arabiya", instead of the Moroccan regional TV "Layoune TV" as they used to do in the past.
In the new video, the military dissidents say they want to inform the international community about the sufferings and grievances of the Sahrawis sequestered in the Tindouf camps.
The group also call the Polisario soldiers and officers to join its battalion or form other battalions to achieve a double objective: defend the MJPC activists against the harassment and retaliation of the Polisario's armed militias and to overthrow the separatist front's current leadership, namely Mohamed Abdelaziz and his cronies who have been in control for decades.
The creation of these opposition movements rendered the situation in the Tindouf camps more volatile, as underlined by Michael Rubin, a former Pentagon expert, on Thursday.
In an analysis entitled "Arab Spring Comes to the Polisario Front?" Rubin, a researcher at the American Enterprise Institute, imputes the growing insurgency to the authoritarian grip of the Polisario and to the disastrous humanitarian situation in the camps where the Polisario leaders steal the humanitarian assistance destined to the needy civilians.
Rubin also underlined that the Polisario and its leader Mohamed Abdelaziz, who proclaimed himself president of the ghostly Sahrawi Republic "SADR", imagine themselves leading a State while the sad truth is they reign over a handful of refugee camps in the Algerian province of Tindouf that they subject to a totalitarian culture like the culture nurtured by tyrannical regimes around the world. In short, he wrote, to be born into the Polisario-run camps is to be born into an authoritarian hell.