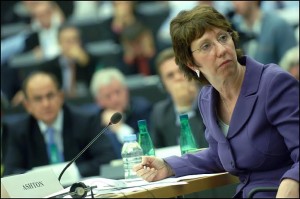 The European Union has been requested to investigate the assassination by the Algerian army of two Sahrawi tradesmen from the Tindouf camps.
The issue was raised by French Socialist MEP Gilles Pargneaux who questioned the European Commission about the murders committed on Algerian soil.
In a written question to the EU High Representative for Foreign Affairs and Security Policy and Vice-President of the European Commission, Catherine Ashton, the MEP said the two young Sahrawis were killed in January by the Algerian army in Oudiyat Toutret near the border between Algeria and Mauritania.
The two victims, Khatri Ahmedha Khandoud and Aliyenne Mohammed Abbih, who were in their car heading to Mauritania, were riddled with bullets by Algerian army soldiers, said the MEP, member of the socialists and democrats' Group.
Pargneaux asked Ashton whether she was intending to open an investigation to shed light on this double murder.
He also asked her whether the European Commission was planning to take measures or sanctions, given that the EU contributes to the humanitarian aid destined to the populations of the Tindouf camps, under Algerian control.
Since 1993, the European Commission has been granting to these populations an annual humanitarian assistance worth €10 million.
Nine other Sahrawis, including an infant and a five year old child, died last week in their sleep when their tent mysteriously caught fire. According to many Sahrawi activists in Tindouf the fire was set by agents of the Polisario security services.
This tragedy occurred on February 18 in the town of Eddoukj in southern Algeria, near the Mauritanian border.
The victims, all from Ahl Najem family, had fled the Tindouf camps to escape the violence and reprisals of the Polisario armed militia and were on their way to the Mauritanian town of Zouerate. The eldest daughter, Fatimatou, was the only survivor of this tragedy. She is being treated in a Mauritanian hospital for second degree burns.