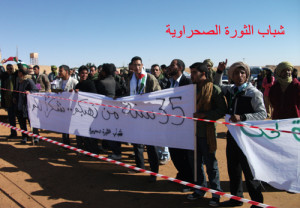 The Polisario leadership, taken aback by the numerous protest movements staged by Sahrawi opponents and dissidents in the Tindouf camps in 2014, apparently changed tactics to silence them.
Upon the instructions of the Polisario chief, Mohamed Abdelaziz, the dirty denunciation work is now entrusted to women called "aarifates." These women who have replaced the armed militiamen deemed inefficient are entrusted with infiltrating the community of opponents.
At a meeting held recently to design this new strategy, the so-called prime minister, Taleb Omar, and the head of what they call the Secretariat for Political Affairs, Salem Labsir, instructed the new recruits to transmit all the information they collect directly to the military security service, headed by Brahim Ahmed Mahmoud Biyadillah aka Grigaou.
Grigaou is actually the brother of Mohamed Cheikh Biadillah, the current president of the upper house of the Moroccan Parliament.
At the same meeting, the aarifates, who had been carefully selected, were named at the head of five cells exclusively made up of women. The cells members will identify and denounce dissidents, plots or any other hostile act targeting the Polisario leadership.
The five cells were positioned in the camps of "Laayoune", "Boujdour," "Smara", "Aousserd" and "Dakhla" to monitor all the movements of opponents inside these camps.
The opponents from Oulad Dlim tribe are on top of the list of the people to be placed under surveillance because the Polisario holds them responsible for graffiti and other wall inscriptions and for video recordings demanding the toppling of the ever-present Mohamed Abdelaziz.
Following the protest movements that have shaken the Tindouf camps in 2014, Mohamed Abdelaziz and his cronies, directly targeted by the protesters, want to corner their opponents who often act under cover out of fear of reprisals.
But this would be without reckoning with the mounting anger among the disenfranchised Sahrawi youths.