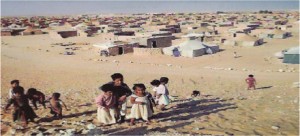 Much of the humanitarian aid granted by the European Union to the Sahrawis living in the Polisario-controlled camps in Tindouf is systematically diverted as soon as it docks at the Algerian port of Oran, reveals an EU report.
The EU's humanitarian aid has been diverted for several years by networks headed by Algerian and Polisario officials, according to a report drafted by OLAF, the European Anti-Fraud Office.
The European Anti-Fraud Office established the report in 2007 following an investigation that lasted for more than four years. The document, was, however, kept secret for seven years for unexplained reasons. The Office has listed the names of those involved in this traffic, but the names are not disclosed to the public for equally mysterious reasons.
It is the European Budget Commissioner Kristalina Georgieva who revealed on Thursday, January 22 before the European Parliament, the existence of this report. The Commissioner explained that the report had not been made public because it had been "forgotten" in a drawer for more than seven years.
According to the OLAF investigation, traffickers replace the good quality products received as international humanitarian assistance by poor quality ones and of course they resell the high quality stuff.
Yet, despite the discovery of this scandal, the European € 10 million aid to the Polisario camps in Algeria has not been suspended.
For OLAF, "One of the reasons that made these frauds possible is the overestimation of the number of refugees and therefore of the aid provided."
The number of refugees has been swollen by Algerian authorities since 1975. Algeria claims that 155,000 Sahrawis are living in the camps controlled by the Polisario, the Algeria-backed separatist front claiming the independence of Western Sahara.
But despite the insistence of international NGOs and Morocco, "neither Algeria nor the Polisario Front agreed to the holding of a census of the population of the camps," insists OLAF.
The report of the European Office also found out that the handling of the assistance and the construction of buildings financed by international aid are made by "prisoners of war or civilian prisoners."