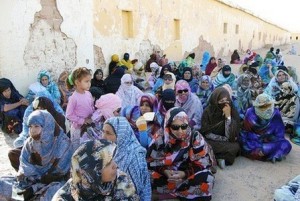 Polisario leaders, who are still reeling from the revelations of the European Anti-Fraud Office (OLAF) on the outrageous diversions of the international humanitarian aid to the Tindouf camps, have been further confounded by the publication of the full report on the website of the European think tank, EuBulletin.
The charges brought by the OLAF investigation on large-scale diversions of the international aid incriminate not only the Polisario leaders, but also Algerian officials. All are accused of using the Western Sahara issue and the cause of the Sahrawis living in the Tindouf camps as a vile means to amass personal wealth.
The charges were corroborated by a Santiago-based Latin American institution, which accused the Polisario of making of international solidarity "a very lucrative business."
The Chairwoman of the Popular Democracy Study Center (CEDEPU) Chilean Jacqueline Andrea Hernandez has denounced "the systematic diversion" of international humanitarian aid to the Tindouf camps populations.
Andrea Hernandez also deplored the instrumentalization of the humanitarian assistance destined to the Tindouf camps populations, which deals a blow to European cooperation and harms thousands of families sequestered in Tindouf in southwestern Algeria.
"This sad reality reveals how a handful of separatists ignore all ethical values and do not hesitate to make of a purely humanitarian issue a source of illicit enrichment," she said.
She also deplored the fact that the Polisario leaders "had long used goodwill and generous solidarity to set up a moneymaking business network at the expense of organizations and countries that are unware of their deception."
In the same vein, an African NGO, the Geneva – based International Action for Peace and Development in the Great Lakes Region (AIPD,) strongly condemned last week the "massive diversions" of the humanitarian assistance by Algeria and the Polisario Front.
The OLAF report revelations have triggered an international outcry against the Polisario leaders' disreputable practices against the thousands of civilians forcibly held in camps in Algeria.
To download the full report, click here