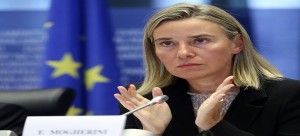 The European Union (EU) has once again expressed satisfaction with the upgrading of human rights monitoring mechanisms in Morocco, particularly in Western Sahara.
The EU's satisfaction was reiterated by the High Representative for Foreign Affairs and Security Policy, Federica Mogherini, while she was answering a question of a MEP on the situation of human rights in Western Sahara. Mogherini welcomed the strengthening of the role of the regional branches of the National Council for Human Rights (French acronym CNDH) in Laayoune and Dakhla.
The EU High Representative for Foreign Affairs and Security Policy underscored Morocco's resolve to consolidate institutional mechanisms to respect and ensure respect for human rights throughout the country.
In her written response, released Tuesday, on behalf of the European Commission, Federica Mogherini recalled in this regard, the existence of a Morocco – EU program providing for bilateral cooperation on the protection and promotion of human rights and support to the actions of the CNDH and its 2 branches in Western Sahara.
The € 2.9 million euros program, signed in 2013, seeks, according to the EU, to strengthen the institutional capacity of the National Human Rights Council and its regional branches including in Laayoune and Dakhla. The program also provides for upgrading professional skills in human rights monitoring.
The European clarifications were made in response to the failed attempts of the pro-Polisario and pro-Algerian lobbyists in the European Parliament to gain support to the separatists' claims calling for the extension of the MINURSO mandate to human rights monitoring, after these very claims were already rejected by the UN Security Council.
In her answer, Morgherini recalled the EU's concerns over the impact of the longstanding Western Sahara conflict on regional security and cooperation as well as on the living conditions and the situation of human rights in the Tindouf camps in Algeria.
The EU follows closely the evolution of this conflict and continues to support UN efforts to achieve a just and lasting political solution, Morgherini said.