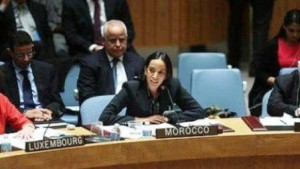 The serious violations of rights and freedoms in the Polisario-run Tindouf camps and the blockade imposed on these camps populations were strongly condemned by head of the Moroccan delegation to the Council's ongoing regular session held March 2 to 27.
Addressing the Council's session on Tuesday in Geneva, Moroccan Junior Foreign Minister, Mbarka Bouaida, drew the Council's attention to the plight of the populations of the Tindouf camps where basic rights are violated and where living conditions are most precarious at a time the international humanitarian aid is systematically diverted.
The diversions committed by the Polisario leaders in collusion with some unscrupulous Algerian leaders were denounced by the European Anti-Fraud Office (OLAF) in a very damning report which confirmed the revelations made by previous international reports and several NGOs, she recalled.
The Moroccan official urged the international community to pressure Algeria, as the host country, to immediately lift the blockade imposed on the Tindouf camps and to authorize the High Commissioner for Refugees (UNHCR) to conduct a comprehensive and transparent census of the inhabitants of the camps, in order to assess accurately the assistance they need.
Bouaida insisted that contrary to the claims of Algerian and Polisario leaders on alleged human rights violations in Morocco and its southern provinces, the Security Council, the UN Secretary General and the HRC have all hailed the pioneering role of the mechanisms put in place in Morocco, including the National Council for Human Rights (CNDH) and its regional committees in Laayoune and Dakhla whose mission is to monitor human rights respect in the region.
In another development, several Italy-based Moroccan associations, including the White Dove Organization, denounced last Saturday in Rome the Polisario for rearing and using child soldiers.
According to these NGOs, thousands of children aged 7 to 14 were snatched from their families and deported to Cuba, Libya, Algeria, and other countries of the former Soviet Union, to be indoctrinated and trained to handling firearms and explosives.
Also, the Rome meeting featured a very moving documentary film about the horrible crimes committed against thousands of Moroccan Sahrawi children in the Tindouf camps.