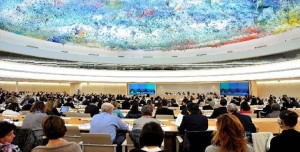 The Mauritanian NGO "Memory and Justice" called the UN Human Rights Council to investigate the human rights violations and crimes committed by the Polisario and its torturers against Mauritanian citizens in the Algeria-based Tindouf camps between 1977 and 1991.
In a letter to the Human Rights Council, the chairman of the "Memory and Justice" association, Mohamed Vall Ould Alghadi, emphasizes the need to do justice, even posthumously, to the scores of Mauritanian victims of Polisario abuses.
"These crimes, whether those committed against victims abducted on Mauritanian territory or in the Tindouf camps, cannot be subjected to the statute of limitations," says Vall Ould Alghadi in his letter. "Members of the Polisario inflicted on us all forms of torture. Dozens of Mauritanians were killed and tens of others were reported missing. The torture survivors are still suffering physical and psychological aftereffects," he says.
The president of the Association, set up in 2010 by former victims of the Polisario and relatives of these victims, has denounced an Algerian commission for paying tribute to one of the Polisario torturers, although he was known for his direct involvement in the crimes committed in the Tindouf camps, under the passive eye of Algerian authorities.
Instead of trying to cover up the crimes committed by the Polisario through such tributes, the Algerian Commission should have rather advocated the opening of an independent investigation into "the abuses committed on Algerian soil and into the Algerian State's responsibility in these offenses," he insists.
The Polisario and Algerian authorities impose a harsh blockade on the Tindouf camps and deny access to foreign media and to international NGOs to impede any investigation on the ground on the reported cases of torture, killings, forced disappearances and other violations of human rights committed in the camps.
The same ban is imposed on United Nations agencies, including the UN High Commissioner for Refugees (UNHCR), wishing to conduct a census of the population living in these camps.