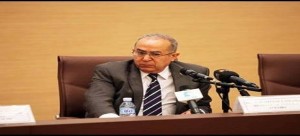 The recent outraged remarks made by Algerian Foreign Minister Ramtane Lamamra, who accused the European Union of interference in his country's affairs for having raised the issue of human rights violations, are actually an attempt to cut short the alarming reports on the situation in Algeria.
Amnesty International, the Euro-Mediterranean Human Rights Network (EMHRN), the International Federation for Human Rights (FIDH), the World Organization against Torture (OMCT) and Solidar had appealed to the European Union on the eve of the holding of the EU-Algeria Association Council in Brussels early June. The appeal was sent to Federica Mogherini, the head of the EU diplomacy.
For these international NGOs, the right to freedom of assembly and demonstration remains "seriously hindered" although the state of emergency was lifted in Algeria four years ago.
Echoing an urgent resolution adopted by the European Parliament on 30 April 2015, the NGOs insistently called for the release of ten militants, "arbitrarily detained in Algeria for months."
The NGOs also called for the adoption of a legislation that would "penalize violence against women under all its forms" and insisted on the need "to remove from the Family Code all discriminatory provisions against women."
Finally, they demanded that Algerian Authorities issue "without delay, entry visas to representatives of international human rights organizations that apply to visit Algeria."
As to the issue of freedom of speech, it was raised by the Algerian Human Rights League. In a report, the League pinpointed the responsibility of the "State (which) manages and distributes advertising," a significant means to exercise "blackmail on the media when it comes to key issues such as security and foreign and economic policy."
The Authorities control thus the circulation of "the official standpoint" as "they do not tolerate dissenting comments or critical reporting," says the Algerian Human Rights League.