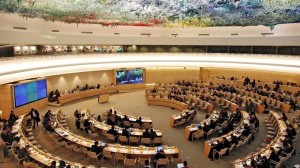 Human Rights defense NGO, OCAPROCE, has strongly denounced, before the UN Human Rights Council (HRC) in Geneva, the ordeal and sufferings of Sahrawi women stranded in the Tindouf camps in the Algerian desert.
Addressing the 39th session of the HRC, militant of the Geneva-based OCAPROCE (Organization for Communication in Africa and the Promotion of International Economic Cooperation) Aisha Douihi drew a black picture of the situation of the Sahrawi women sequestered in Tindouf.
Aisha Douihi's story took the audience aback as she unveiled that slavery, a practice of another age, is still prevailing in the Tindouf camps in the Algerian territory.
Mrs Douihi denounced another prevalent practice in Tindouf, consisting in deporting very young children to far away countries to be trained to the ideology of hate while their vulnerable mothers are silenced by acts of physical and psychological violence.
In her address before the HRC last Thursday, Mrs Aisha Douihi, a native of the Moroccan southern provinces, described the precarious living conditions of these Sahrawi women and gave details on how they are sexually abused and forced to get pregnant, as the Polisario seeks to increase the camps population to have more people to indoctrinate into the cult of hate, especially the hate of their brethren living in the Moroccan Saharan provinces.
According to the Swiss NGO activist, "these women are living in constant fear. Those who were able to flee the camps and joined Morocco, told us about the rapes, kidnappings, forced trafficking that they were subjected to daily in a territory lacking elementary conditions for a dignified life. "
For her part, the president of the Italian NGO "PROTEA" Sara Baresi renewed the call for the organization of a census of the Tindouf camps population to prevent such abuses.
The Italian activist Sara Baresi who presented a study by Women's Aid, a group of international NGOs, on ways to deal with the abuse of women, said she was appalled that the census of the population sequestered in Tindouf has not been conducted yet, despite the repeated appeals by the Security Council to Algeria and the Polisario.