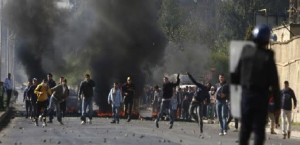 The State Department country report on the situation of human rights in Algeria was particularly embarrassing for the Algerian government as sensed in the violent reaction of Algerian authorities.
Ten days after the publication of the 2014 report on the situation of human rights in the world, the Algerian foreign ministry issued a statement Monday, July 6, rejecting outright the accusations of the State Department.
Washington has reported violence committed by security forces, including against demonstrators in the events of Laghouat. The US report also denounced the use of torture and arbitrary detention in Algeria.
The US report comes after the report published early June by the European Union, which also points out Algerian authorities' violations of human rights. The freedoms of expression, association, and assembly are all hampered by the political-military regime in Algeria.
Despite the lifting of the state of emergency in Algeria four years ago, arbitrary arrests and prosecutions continue against trade union activists, according to the EU report.
Several international NGOs, including Amnesty International and the World Organization against Torture (OMCT,) had called on the EU to put pressure on Algiers during the latest EU-Algeria Association Council meeting in Brussels.
As regards the worrying situation of human rights in the Tindouf camps, Algeria is responsible for these camps that are on its territory, although the camps are under the control of the Polisario, the Algeria-backed separatist front challenging Morocco's sovereignty over Western Sahara.
The department of Ramtane Lamamra responded to these criticisms with the same outraged but unconvincing objection as that opposed to the report of the US State Department.