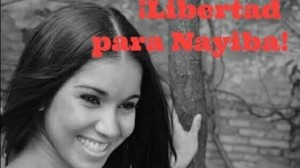 After Mahjouba and Darya Emabrek Selma, another young woman, Najiba Belkacem, adds to the long list of girls of Sahrawi origin who are forcibly kept in the Polisario camps in Algeria, while their adoptive families in Spain are struggling to save them from the hell of the Tindouf camps.
This time, it was the Spanish media which launched the alarm about the case of Najiba, 23. She had been adopted by a family living in Seville following a visit to Spain in 2000 for a summer camp. She spent all her childhood in Seville with her adoptive family.
It was only in 2013 that Najiba decided to go to the Tindouf camps to visit members of her biological family. But the trap closed on her.
The Polisario confiscated her Algerian passport, condemning her to remain in the camps where her biological parents are planning to marry her following local customs.
Spanish electronic sites "Huelvainformacion.es" and "Diario de Sevilla" reported that Najiba is now distressed and helpless and can no longer bear living in the camps, under the Stalinist control of the Polisario Front.
Najiba Belkacem redoubled appeals to Spanish authorities and international NGOs to help her get out of this ordeal. Her adoptive family in Spain is on its part determined to fight for her release, encouraged by the happy ending of the case of another young Sahrawi in October 2014.
Mahjouba Mohamed Hamdidaf, sequestered as Najiba, was finally able to leave the camps under the joint pressure of Spanish authorities and human rights NGOs. Mahjouba now lives with her adoptive parents in the Spanish city of Valencia.
The case of another young Sahrawi, Darya Emabrek Selma, is unfortunately still pending.
Selma is held against her will in Tindouf. Her biological parents, with the consent of the Polisario and the Algerian DRS services, prevent her from returning to Tenerife to her adoptive family.