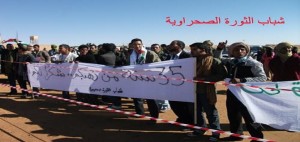 A delegation of the High Commissioner for Refugees (UNHCR) visited the Tindouf camps at the request of the UN to take the pulse of the protesters who have been expressing their growing anger against the Polisario leadership over the past recent months.
The UNHCR delegation's mission consists in recording the claims and grievances of the young protesters and trying to ease the tensions prevailing in the Tindouf camps, where the situation may get out of control at any time.
 The disgruntled Sahrawis demand that the UN and its agency, the High Commissioner for Refugees, grant refugee status to the Sahrawis sequestrated in Algerian territory.
This is one of the claims of the Sahrawis opposed to the Polisario leadership. These Sahrawis staged so many sit-ins in 2014 and early 2015 before the UNHCR headquarters in the Rabouni camps to express their demands.
 The UNHCR emissaries realized after meeting the protesters that it was actually necessary to conduct a census to identify the authentic Sahrawis and detect the nomads who came from the Algerian Sahara and neighboring countries. The Polisario and Algerian authorities had welcomed these nomads to the camps to inflate the numbers of people settled in the camps in an attempt to increase the volume of international aid.
And so far, Algeria and the Polisario have rejected the census requests made by the UN and its agencies and the numerous Security Council resolutions calling for the registration of the Tindouf camps populations.
The young Sahrawis told the UNHCR delegation that before they put an end to their protest movement, they exact the respect of the camps residents' right to freely travel, without any restriction, to the country of their choice. Currently, anyone who wants to leave the camps must go through "check-points" set up allegedly to fight smuggling.
The Sahrawi protesters seized the presence of the UNHCR delegation to denounce the widespread corruption in the ranks of the Polisario hierarchy and the systematic embezzlement of international aid, as unveiled earlier this year by the Office of the European Anti-Fraud Office (OLAF.)
The Polisario usually prevents foreign delegations from having any direct contact with the camps residents. But this time, the Polisario leader, Mohamed Abdelaziz, gave without hesitation the green light to the UNHCR representatives to freely roam in the camps in the hope that they would manage to defuse the tension in the camps and calm down the young protesters.