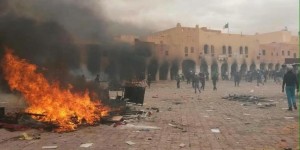 Human Rights Watch denounced the Algerian government's crackdown on pro-Amazigh activists, namely Kameleddine Fekhar, and his 24 co-defendants, who all face the same charges, including "participating in a terrorist act and inciting hatred, for their alleged role in violent confrontations between the Amazigh and the Arab communities on July 7 in the Mzab region. The accused, all from the region, could face the death penalty.
HRW suspects Algerian authorities to detain Kameleddine Fekhar "solely because of his strong convictions." The Amazigh activist had angered the Algerian government when he had accused, in a TV interview, Algerian security forces of standing by without intervening during attacks on the Mozabites, as the region's Amazigh are known.
The Amazigh of Mzab region had condemned the government for what they called "complicity in crimes against humanity by Sunni Arabs against the Amazigh, or Berber, ethnic minority in the region," the New York-based NGO said.
Fekhar had also angered the authorities when he addressed on July 2, 2015 a letter to the UN Secretary General. He was requesting UN intervention to protect against what he called "apartheid and ethnic cleansing" practiced by the Algerian government against the Mozabite community.
Just few days after the inter-communal violence that erupted on July 7 – the latest such episode in an ethnically tense region – and that left 25 people dead and more than 70 injured, from both communities, most from gunfire, Ahmed Ouyahya, cabinet chief for President Abdelaziz Bouteflika, responded to Fekhar's move during a public meeting. He accused "those who have addressed requests for foreign intervention to the United Nations" of being behind the violence in Ghardaia, HRW said.
"If the government has evidence that Fekhar played a real role in the tragically violent events and is not being held merely for his strong views, it should produce the evidence in open court," said Sarah Leah Whitson, Middle East and North Africa director of Human Rights Watch. "If not, the Algerian Government should release him and his co-defendants," she said.
Amazigh activists claim the autonomy of Mzab, a region in central Algeria, near the desert.