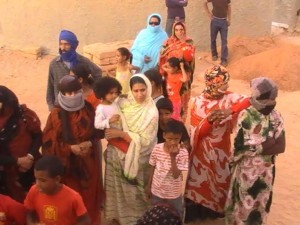 Two Italian NGOs denounced on September 21 before the UN Human Rights Council (UNCHR) the widespread practice of forced marriages in the Tindouf camps.
The two NGOs, which referred to reports by international organizations, depicted "a grim reality marked by early marriages and sexual violence against women who have no means to defend themselves against such practices or to denounce them."
According to the American NGO The Pacis Group, very young girls, most of the time under 13, are forced to marry against their will Sahrawi men from the upper class or Polisario leaders.
"In this remote desert area, where people live in total isolation, cases of minors' marriage are common and victims are often condemned to silence," lamented the president of the Italian Onlus METE association, Giorgia Butera.
The Italian activist drew the attention of the HRC to what she called "a particularly tragic situation" in Tindouf. "The international community can neither intervene nor be accurately informed about the extent of the problem," she said.
For her part, the chairwoman of the Italian Protea Association for Human Rights Protection, Sara Baresi, underlined the serious consequences entailed by the absence of any census of the inhabitants of the Tindouf camps. This is a real source of concern to the international community, she said.
In the absence of such a census, "we are not able to know the exact number of births, early marriages and cases of disability, death and violence."
The president of Protea also raised the problem of systematic indoctrination of children and young people in the Tindouf camps. These kids lose their identity because they are separated from their parents at an early age and sent to training camps before being enrolled in the Polisario armed militias, she said.
"We continue to receive reports from Tindouf about the indoctrination system prevailing there. The system leaves no room for freedom of thought and freedom of speech," said Sara Baresi.
Such practices are of great concern to all human rights advocates and should be of great concern to all those who continue to believe in the lost cause of the Polisario separatists.