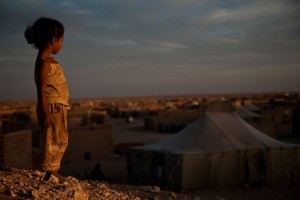 The announcement that Algeria has earmarked over €10 million for the Polisario leaders' trips to Scandinavian countries was sensed as an insult in the Tindouf camps, where the surviving populations can hardly meet their most basic needs.
This €10 million offense dealt to the camps populations by the Algerian government is all the more bitter that the Sahrawi movement had just launched on October 6 an urgent appeal to international donors. Rations to the beneficiaries of international aid in the Polisario-controlled camps have dropped by 20% in October.
The Algeria-backed Sahrawi Front, which vies sovereignty over Western Sahara, said an amount of $11 million is needed to cover the last quarter of 2015. Urgent needs include commodities, particularly food products, medicines, tents, etc.
This shortage is mainly due to the decline of European aid to the Tindouf camps following the revelations about the massive embezzlement of EU assistance by Polisario leaders and Algerian officials.
The European Anti-Fraud Office (OLAF) revealed early 2015 that much of the international aid to the Tindouf camps was systematically diverted as soon as the cargos arrived in the Algerian port of Oran.
Since the scandal was unveiled, Brussels has reduced its aid basing it on its own estimates of the number of Sahrawis actually living in the camps, rather than on the inflated figures provided by the Algerian regime.
Meanwhile, the Tindouf camps populations are shocked and do not understand how the Polisario dares to call for international aid at the very moment its leaders are enjoying their time in Scandinavian luxury hotels in search of an unlikely recognition of the so-called Sahara Republic.