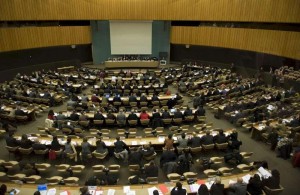 Morocco called, on Tuesday, the UN High Commissioner for Refugees (UNHCR) to put in place the required procedures for the identification and registration of the Sahrawi populations settled in the Tindouf camps.
The call was launched by Morocco's ambassador to the United Nations agencies in Geneva, Mohamed Aujjar, during the general debate with the High Commissioner for Refugees, held part of the 66th session of the UNHCR Executive Committee.
Mohamed Aujjar stressed the utmost importance to conduct a census of the Tindouf camps residents, as stipulated by the UNHRC mandate and the resolutions of the UN Security Council.
He called in this regard for the implementation of resolution 2218 adopted by the Security Council in April 2015, pending a political solution to this regional dispute that would enable these people to return to their country of origin, Morocco.
On the other hand, the Moroccan diplomat hailed the UNHCR commitment to expand the biometric registration of refugees in several countries hosting refugees to establish a universal biometric system of the registration and identification procedures. The system will help assess and quantify the refugees' real needs, he said.
Mohamed Aujjar also stressed the need to focus, on the occasion of the World Humanitarian Summit 2016, on the humanitarian aspects and to avoid the instrumentalization of the plight of vulnerable populations for political purposes and to make sure that the national sovereignty and territorial integrity of states are fully respected.
The Moroccan diplomat was surely alluding to the Algeria-backed Polisario Front which is exploiting the misery of the Tindouf camps populations to serve its own interests. Earlier this year, the European Anti-Fraud Office (OLAF) unveiled the Polisario leaders' involvement in massive misappropriation of humanitarian aid destined to the Tindouf camps.
The separatist leaders have made of the populations sequestered in the Algerian desert a genuine business that enabled them to amass huge wealth.