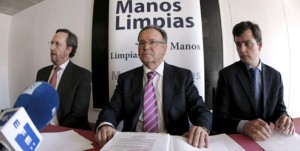 A Spanish association known for its support to the Polisario has been accused by the influential trade union "Manos Limpias" of involvement in the embezzlement of the humanitarian aid destined to the Tindouf camps populations.
"Manos Limpias" (Clean Hands) actually filed, last Friday, a complaint with a Spanish court for "fraud on humanitarian aid destined to Tindouf" against the Coordination of Solidarity Associations with the Sahara, known as "CEAS-Sahara."
According to the Spanish agency europapress.es, this complaint follows the complaint lodged by the same union in May against the Polisario for the embezzlement of €20 million channeled through various NGOs between 2003 and 2007.
The complaints lodged by the Spanish trade union confirm the revelations of the European anti-fraud office (OLAF) which had unveiled, in a damning report published in February 2015, documented evidence on the involvement of Polisario leaders and their accomplices among senior Algerian officials in large-scale diversion of European humanitarian aid.
In its application, the Spanish anti-corruption trade union demands to bring before justice the leaders and representatives of the Polisario in Spain and members of CEAS-Sahara for their involvement in this massive fraud.
The suspects mentioned by "Manus Limpas" include in particular the President of the CEAS-Sahara Jose Taboada Valdes, the President of the Sahrawi Red Crescent (CRS) Bouhabini Yahya, the Secretary General of the Polisario Youth Association Salek Baba Hassana, the separatist front's representative in Washington, Mohamed Yeslem Beisset, the so-called Foreign Minister Mohamed Salem Ould Salek, the head of the Polisario negotiating delegation Khatri Eddouh, the director of the general treasury of the Polisario Enazih Sidi Othmane and the coordinator with MINURSO M'Hamed Khaddad.
These leaders are now hunted throughout Spain, despite the support still extended to the Polisario by some Spanish associations and NGOs, such as CEAS-Sahara.