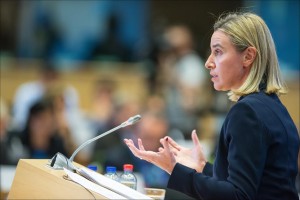 Algeria and the Polisario have once again suffered a setback in their diplomatic battle against Morocco over Western Sahara. Actually, the head of European diplomacy, Federica Magherini, pleaded Thursday in Strasbourg for a population census in the Tindouf camps.
Something not to the liking of Algeria and the Polisario which never authorized UN specialized agencies to proceed with the registration and identification of these camps populations.
Answering a question by Member of the European Parliament Gilles Pargneaux, the EU High Representative for Foreign Affairs and Security Policy finally admitted before the Budget Control Committee of the European Parliament, that there "had actually been problems" of diversions of the humanitarian aid extended to the Tindouf camps populations as revealed by the European Anti-Fraud Office (OLAF) in a report released in February 2015. It will be necessary to conduct a census of these people so that they can continue to benefit from EU aid, she said.
Commenting on the EU official's remarks, Director of the Atlantic Council's Africa Center Peter Pham said that this census, so much anticipated by the international community, is all the more necessary and urgent that the report of the OLAF, an agency of the EU Commission, had revealed the large scale diversions of humanitarian aid to the populations stranded in inhumane conditions in south-western Algeria.
The international community "needs to know the exact number of these people, knowing that a large majority of those living in the Tindouf camps have no connection with the (Moroccan) southern provinces and are not descendants of Moroccan Sahrawis,"  Peter Pham told MAP.
At a time Algeria continues to cling to the status quo to perpetuate the territorial conflict that serves its geostrategic ambitions, the autonomy proposal for the Sahara under Moroccan sovereignty, which is likely to guarantee a dignified life to the Sahara population, is still waiting to be implemented to free the populations forcibly detained in Tindouf and end their ordeal, said the US expert. "It is high time to stop this mascaraed."