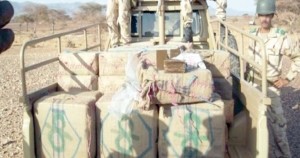 A Mauritanian official confirmed the involvement of the Polisario in a cocaine trafficking operation that was foiled recently in Mauritania.
In a statement to the TV channel France 24 in Arabic, Ahmadou Abdel Malek, official spokesman in France of the Mauritanian ruling party, the Union for the Republic (UpR,) touched on the operation conducted early February by Mauritanian authorities which resulted in the seizure of a large quantity of drugs, including two tons of cocaine, and the arrest of dozens of traffickers of various nationalities.
"Mauritanian security forces and anti-drug forces arrested several gangs and this is not the first time they manage to get hold of a band whose members come mostly from the Polisario and the great Sahara, who know the area perfectly well…" said Ahmadou Abdel Malek.
The Mauritanian official has thus confirmed the insisting rumors about the involvement in drug trafficking of individuals come directly from the Tindouf camps. These individuals are reportedly operating under the orders of senior executives of the Polisario Front.
The spokesman for the UpR nevertheless assured that the latest attempted drug trafficking has been foiled and the gang members arrested. The traffickers used the Mauritanian territory as a crossing point to convey the drug they receive from Latin American countries, including Colombia, to Europe through the desert route.
Quoting Mauritanian officials, a Mauritanian website, Sahara Medias, has also revealed that the drug dealers group included not only Algerians, Mauritanians, Malians and Senegalese but also Polisario elements.
According to US intelligence, the drug trafficking networks in Mauritania are also used to supply arms and ammunition to the jihadists of AQIM and other armed groups in Mali and the Sahara and Sahel region.
This is not the first time that the involvement of Polisario elements in drug trafficking and other suspicious activity is revealed. The dire living conditions in the Tindouf camps and the Polisario executives' greed and desire to get rich by all means thrust many into the prohibited and dangerous trafficking.