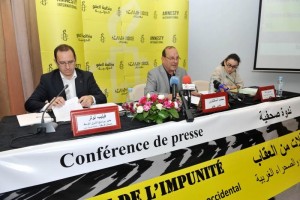 Amnesty International (AI) has strongly criticized Algeria for its "systematic refusal" to let the organization and other NGOs visit the country to investigate the reportedly serious violations of human rights that are committed there.
"The authorities persisted in their refusal to allow visits to Algeria by some UN human rights bodies and experts, including those with mandates on torture, counter-terrorism, enforced disappearances and freedom of association," pointed out AI in its 2015 report presented on Wednesday in Rabat.
"Algeria forbids us to investigate, because violations of human rights are very serious," said the AI ??leaders.
Amnesty International also lashed out at the Polisario leadership, based in the Tindouf camps in the Algerian desert.
Again this year, the Polisario took no action to end impunity for the perpetrators of human rights violations and abuses committed against the Sahrawi population under the passive gaze of Algerian authorities in their capacity as the supervisory authority of the camps hosted by Algeria, AI said in its latest report.
The international NGO called on Algerian authorities to hand the polisario executioners to national or international courts to be tried for the abuses and crimes they committed.
In its report, Amnesty has not spared Morocco, deeming the progress made in terms of human rights respect "very insufficient." But the International Organization has not classified Morocco among the five countries where torture is widespread; affirming that in the kingdom, torture "is not systematic."
Yet, in cases of alleged torture, AI demands that counter-examinations are carried out by foreign physicians that the organization will designate and not by Moroccan doctors, as it is currently the case in the kingdom.