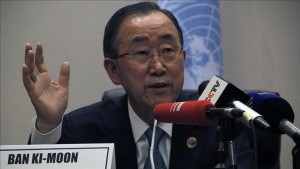 Morocco, which is involved since early March in a diplomatic dispute with the United Nations Secretary General Ban Ki-Moon about the Sahara issue, does not seem inclined to give up. On the contrary it seems determined more than ever to win the case, as it is a matter of sovereignty.
Morocco took a number of measures in retaliation against Ban's provocative words and gestures during his visit early March in Algeria, during which he described Morocco's presence in the Western Sahara as "occupation."
The latest of these measures consisted in asking the UN to close down the MINURSO liaison office in Dakhla.
MINURSO received a request to close its military liaison office in Dakhla, confirmed on Monday the UN deputy spokesman, Farhan Haq. He said this is the first request directly concerning the military component of MINURSO after nearly 80 civilian members of the UN mission in the Sahara were deported, at the request of the Moroccan Government. Two military experts were also expelled last Sunday for having transgressed the mission assigned to them.
In parallel with the Moroccan Government's response, diplomats at the UN and the Security Council are continuing their negotiations with representatives of the Kingdom in a bid to reach a mutually acceptable solution to the dispute between Morocco and the UN Secretary General.
After the outcome of a meeting held on March 19 did not seemingly respond to Ban Ki-Moon's expectations, he insisted on holding another informal meeting on Monday with the ambassadors of the 15 member countries of the Security Council, in the hope, not to revive the Sahara conflict settlement process, but to snatch their support in his standoff with Morocco.
In the UN corridors, it is said that the UN Secretary General offered his apologies to the Moroccan Foreign Minister, Salaheddine Mezouar, but retracted later on for fear that other countries will be encouraged to follow suit in their own disputes with UN officials.