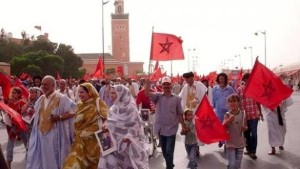 At a time relations between Ban Ki-Moon and Morocco are crossing a zone of turbulence because of the UN Chief's bias in the Sahara issue, Russia on Tuesday voiced support to Morocco, affirming its opposition to any "infringement of the parameters" already defined by the Security Council.
Ban Ki-Moon has transgressed the neutrality he is required to observe as the UN Secretary General, prompting Morocco to threaten to stop all cooperation with MINURSO and to withdraw from other UN peacekeeping missions.
Russia has clearly provided support to Morocco on the thorny Sahara issue that has been poisoning, for years, relations between Morocco and Algeria, which backs the separatist Polisario movement.
Moscow's valuable support for Morocco comes just a couple of days after the massive demonstration staged in Rabat on Sunday March 13, a march that was attended by over 3 million Moroccans who took to the streets to protest against Ban Ki-Moon, whose use of the term "occupation" marks an unprecedented alignment by a UN Secretary General.
It also constitutes a precedent in the annals of the United Nations, as no UN resolution has referred to "occupation" since the world body started handling the Sahara issue in 1991.
Tuesday, on the occasion of the visit of King Mohammed VI to Moscow where he met with President Vladimir Putin, the Russian Minister of Foreign Affairs, Sergei Lavrov, called for a negotiated settlement accepted by all parties to the Sahara conflict.
Russia's position was reaffirmed the same day some 180,000 Sahrawis were staging a demonstration outside the headquarters of the MINURSO in the city of Laayoune. The thousands of protesters denounced Ban Ki-Moon's partiality and lack of neutrality on the Sahara issue.
Besides Moscow, France also renewed its opposition to any trespassing of the framework outlined by the Security Council. The Sahara issue "is the subject of a UN mediation, which France supports within the parameters set by the Security Council," Spokesman for the French Foreign Ministry, Romain Nadal had said on March 9.
"For France, the autonomy plan presented by Morocco in 2007, is a serious and credible basis" for a negotiated solution to the Sahara issue, said the spokesman.