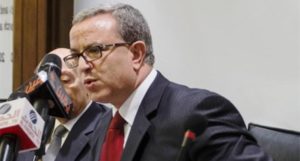 Morocco has called again on the United Nations High Commissioner for Refugees (UNHCR) to launch procedures to conduct the registration and census of the Tindouf camps population, as advocated by the recent resolutions of the Security Council.
Addressing on Tuesday the 66th session of the UNHCR Standing Committee, held in Geneva, Switzerland, Morocco's Permanent Representative to the UN, Mohamed Aujjar, underlined that "the registration system established in the frame of the UNHCR should apply to all refugee situations, without any restrictions by the host countries."
"In the case of the Tindouf Sahrawis, Algeria, in its capacity as the host country, has never allowed the UNHCR or other UN agencies to conduct a census of these populations confined for over forty years in the Algerian desert.
The Moroccan diplomat stressed the urgent need to identify the populations of the Tindouf camps to quantify their real needs in international humanitarian assistance and at the same time to prevent the diversion of this aid during its conveyance from ports and airports in Algeria and during its storage and distribution in the camps.
Mohamed Aujjar recalled in this connection the revelations of the report published early 2015 by the European anti-fraud Office (OLAF) which reported systematic and large-scale embezzlement of EU aid allocated to the Tindouf camps populations.
In this vein, the Ambassador drew the attention of the UNHCR Standing Committee to the situation of young refugees.
Despite the millions of dollars of aid that the Polisario collects each year, the youths continue to suffer from exclusion, discrimination and marginalization and become prime targets of drug and human traffickers and easy prey to be recruited by armed groups, he said.
In his address, the Moroccan diplomat also praised the UNHCR for implementing the biometric registration system for refugees in 11 countries, particularly in remote and poorly connected areas.